Consulting services are individually tailored and differ case by case. Additionally each consultancy defines its own service portfolio. This general consulting portfolio allows the comparison of consulting services and companies.
The following model is organized into four areas: resources, methods, analysis and management.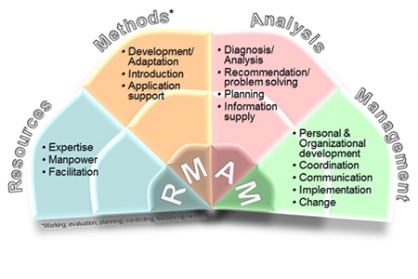 Content-oriented consultation offers resources like expertise, work force and facilitation, i.e. supply of resources. It can be selected by branch, function, or process. Dependent on the topic the offers are technology-, administration- or service-oriented operations, e.g. information technology, human resources, hotline management. Essentially capacity bottlenecks of the customer are compensated with external resources or continuous outsourcing.


Methodical consultation supplies and/or develops locally required knowledge, approaches and structures together with the customer. It is about development/ adaptation, introduction and application support of methods, e.g. time management, reporting system, project management, governance, and leadership methods. The development of method competence increases internal efficiency, reduces the loss of core competencies and supports 'help for self-help'.


Evaluation-oriented consultation provides creative, content-oriented support by neutral third party. It concerns diagnosis/ analysis, recommendations/ problem solving, planning and information supply. Results are certifications and benchmarks as well as recommendations, solutions, project plans and research documentation, e.g. ISO9000-certifications, IT-benchmarks, solution alternatives for decision-making or future scenarios. This provides generally accepted certification and branch knowledge as well as neutral evaluations and external creativity by independent third party.


Management consultation covers the areas of personal and organizational development, coordination, communication, implementation and change management. It is a holistic consultation that combines content-oriented, methodical and evaluation-oriented services and extends with personal coaching of individuals and groups.Key areas are any changes that individuals, teams and organizations have to cope with concerning their context, actions, capabilities, convictions, roles and affiliation.This can take place as workshops, major events, communication and other change-related activities.Technocratic, reason-driven management approaches reached their limits, since they ignore the human soft factors involved.Therefore, more and more efforts occur to look at daily business life holistically as a system, more as a living organism than a wheelwork with defined cogwheels. Appropriate consulting services are available in the field of change management, e.g. systemic organizational consulting, learning organization, single and team coaching.


The model enables the positioning and presentation of core areas that are delivered by consulting services and firms.