Effectiveness and Efficiency
In the center of benefit discussions are often effectiveness and efficiency. Since the two terms are used repeatedly in a fuzzy way, the following specifications and examples are to facilitate the application.


Relevant benefit aspects ensure that the right (effectiveness) is done right (efficiency).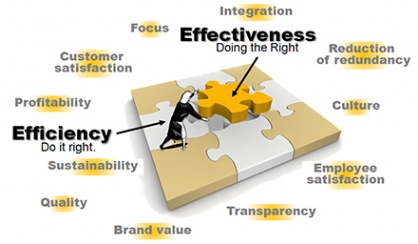 describes the hit ratio of activities, i.e. focusing on the essential and the achieved impact. Benefit evolves in this case by omitting aspects that are not part of the task as well as from the resulting availability of resources for the essential tasks. The effectiveness appears in achieved customer and/or employee satisfaction, realized project focus and reduced redundancy as well as the degree of activity integration.


describes the economical use of resources, i.e. the achievement of maximum benefit with minimum costs. Benefit evolves from defined requirements, suitable approaches and frugal application of resources. Efficiency appears through the achieved quality and transparency, profitability of the solutions, obtained brand value and sustainability of the results, i.e. long-term impact of the solutions.

The conscious discussion of effectiveness offers most of the benefit potentials, since the avoidance of unnecessary work packages preserves on the one hand resources and keeps on the other hand the complexity of solutions as small as possible.