The sum of your contacts is your personal range of action, where you have direct and indirect access to a wide variety of specialists. Contacts arise, as soon as people meet - privately, at work and virtual in the Internet. Conscious pursuit of your network provides many advantages. Do not be frightened by the contact labels of the different networks, e.g. Friend, Follower, Circles.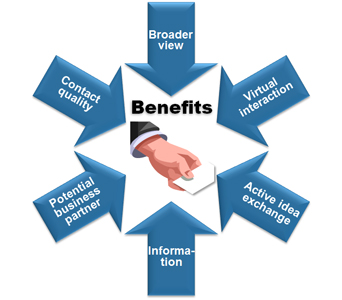 Benefits of active networking
The advantages of active networking outweigh, even with the growing, temporal need for contact maintenance.


Expand your horizon, by establishing contacts across borders of functions, industries and cultures. You find new partners, potential brokers for important contacts and new topics.


Use the various possibilities of the modern communication technology (e.g. chat, video conferences). Dedicate yourself regularly to your counter parts.


Overcome the limits of your direct environment. Benefit from experiences that others already have made.


Filter the information of your contacts out of the flood of information. You receive references, recommendations and specific contributions at first hand.


Personal contacts are nowadays crucial for success, in order to exchange and render jointly deliverables.


The quality of your contacts is determined by direct contacts that offer informal feedback at any time, worldwide and at little expenditure.