Governance is a new management model that enhances process reliability in organizations by defining, publishing and rolling out general policies. Besides specific governance models like COSO and COBIT the following model provides essential elements that are needed by any organization. This makes governance the mortar between the strategic pillars strategy, organization, personal and reporting.
It consists out of principles, business alignment, glossary, critical success factors, metrics, guidelines and roles.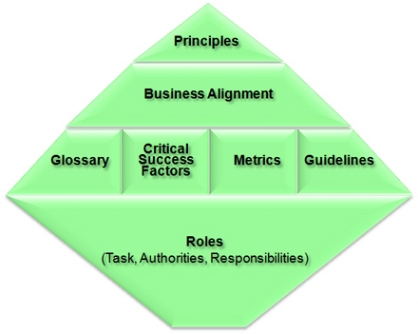 · Principles
Principles define beliefs about culture, values and the self-image of a company.

· Business alignment
The Business Alignment defines the relationship between business partners concerning purpose, principles, communication, collaboration, decision-making, roles and a general commitment.

· Glossary
The glossary establishes the most important terms and definitions of the corporate terminology.

· Critical success factors
Critical success factors are key figures for success, that determine survival competitiveness sustainably.

· Metrics
Metrics provide generic indicators that ensure the evaluation of the company and its organization.

· Guidelines
The Guidelines register the sources of all relevant laws, guidelines and standards for daily business. The overview ensures the availability of the information for all members of the organization.

· Roles
Roles provide generically tasks, authorities and responsibilities (TAR) as a basis for individual job descriptions.