Additionally, procedures are available on all levels of meaning design that will be adjusted to your needs. memecon classifies projects into the status of meaning design and provides individual approaches.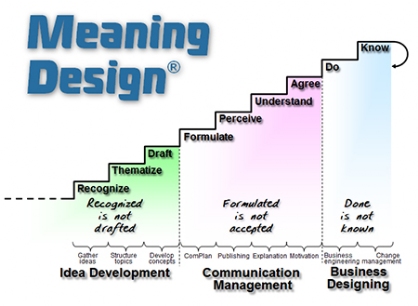 The process of meaning design goes from idea development, over communication management, up to the business designing.

Many responsible people are not aware that thoughts, ideas and solutions that they have in their mind have another meaning, than the message they communicate and finally the meaning that is perceived by the target-group. This communication dilemma can be minimized by conscious, target-group-oriented meaning design.

For each stage of meaning design services can be put together based on your needs. The services are appropriate for business enterprises, nonprofit organizations and public administration, in addition for individuals. The following examples clarify the potentials:


The development of new ideas requires the quantum leap from undefined feeling to a comprehensible statement. This can be stimulated by appropriate creativity activities that are developed by memecon.


Ideas exist without shape in the space of possibilities. The topic structuring specifies an idea and is an important step towards concept. It is achieved by a comprehensive description of problems and their transformation into goals.


Idea development is completed after the original idea is solidified into a concept. A defined concept framework is available. The final concept should be selected from several alternatives, in order to have enough momentum, viability and sustainability.


In the product groups you already find the ComPlan. Beyond that, further services are available that will be individually configured. This includes expectation management (i.e. determination and evaluation of stakeholder expectations) and improvement of organization communication (i.e. comprehensive target-group modeling, communication planning and development of communication measures).


The development of communication measures can be improved by using individual components of the standard service DocuReview. They ensure the desired effect of your communication measure is achieved.


With the publication of communication measures starts a resonance phase, in which feedback of the target-group is caught up actively. This takes place via events, feedback channels and similar activities. That is how you reach that your messages get to and are accepted by the target-group.


For the increase of the motivation of the target-group there can be commitment amplifiers built into communication. Thus, the formalization of the commitments supports an increasing acceptance.


Business engineering covers the wide field of standard consultancy services. Due to the variety of offers, memecon ® focuses here on management support for consultancy planning, requirement specification and order monitoring. Competence fields are system modeling, business planning, business model development, business process management, IT governance (COBIT), organization modeling, (multi-) project management.


There are already some standard services for change management. Beyond that, personal and organizational development services are available, that will be adjusted to individual needs.