The Logical Levels were developed by Robert Dilts based on insights of Gregory Bateson. This model can be used to describe roles in a holistic way - from environment and visible actions through convictions up to the affiliation. The following model was adapted for management needs.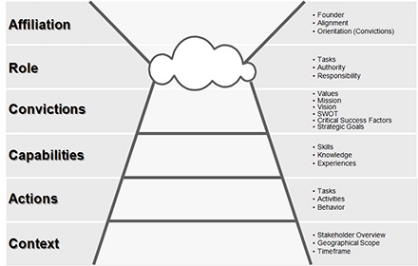 It links the important aspects, which are needed for the description of people.

· Context
The context describes the environment, the surrounding field. Core elements are stakeholder, geographical conditions and time frame.

· Actions
On this level visible practices and behavior are described.

· Capabilities
Capabilities describe skills, knowledge and experiences.

· Convictions
Convictions are mental maps that are defined as vision, mission, swot (strengths/ weaknesses, opportunities/ threats), critical success factors and strategic goals.

· Roles
Roles describe tasks, authority and responsibility of individuals or a group of people.

· Affiliation
Affiliation describes the moral concepts that are influencing almost unconsciously.