The branches provide lore from the root.
Arab proverb


memecon covers holistically Consulting, Coaching und Training. The focus lies on procedures, approaches and solutions as well as facilitation and support of usage and decision making.

Consulting
Consulting comprises the description of subject matters for activities like business modeling, strategy development, trend management, system modeling, target group profiling, idea generation, business process design, IT-management, governance, change management, project management, communication management.
For that reason investigation, development, editing and monitoring services are provided.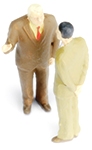 Coaching
Coaching describes the support of individuals as well as organizations within the scope of personality, team and cooperation empowerment.
The services consist of pre-processing, facilitation and post-processing.

Training
Training follows the concept of aid in helping yourself. That enables consulting and coaching services with internal resources.
Therefore memecon methods, structures and processes are provided.


Sample applications
In the following areas memecon services are applicable:

· Strategy development
· Innovation projects
· Governance development
· Communication improvement
· Merger/ Joint ventures
· Area/ Organization/ Team development
· Leadership change/ succession
· Personal challenges
· Reorganization- / Re-engineering projects
· Change management
· Enterprise culture projects
· etc.


The world of ideas is totally fragmented. Anything of goes - everything is possible. And nevertheless - with all variety, many perspectives and complexity resulting from it everything centers around People, Culture, Business models, Processes, Products and Services, Resources and especially on information.