Quarterly reporting and the requirements from the reporting obligation, certifications, laws and performance-related remuneration enforce ever shorter time horizons short-term = month, mid-term = quarter, long-term = year. Long-term considerations are not thought out and remain unused, because they do not provide short-term impact.

Plan radar organizes the activities along two dimensions. You can fill out this model for yourself or develop it in a workshop together with your organization. Organize thereby your activities into the dimensions deliverables, customer, organization and technology. At the same time avoid concrete dates and organize the activities into the scopes project, plan and perspective.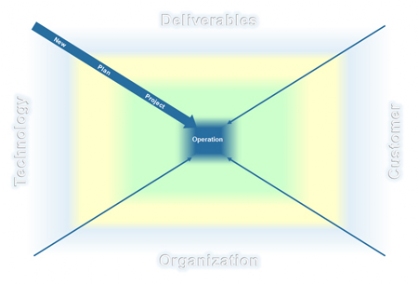 Dimensions
Arrange activities into four topical areas.


In this segment, projects are bundled that deal with products and services, like for example the innovations, required replacements and similar initiatives.


The activities that are all about the customers, markets and sales are collected in this area, like the development of new markets, the innovative sales channels, a new brand image, the customer satisfaction, and a customer database.


All initiatives that for example take care of the processes, strategy and leadership, i.e. the internal organization are collected in this part, like the improved processes, a new direction of the company, and trainings.


Projects that concentrate on the technological and methodological tasks, like the development, implementation, maintenance and dismantling of plant equipment, IT systems, tools, production methods are described in this area.

Scope
For the description of the temporal scope activities are positioned in the green area (i.e. project), the yellow area (i.e. plan) or in the blue area (i.e. (perspective) of the respective dimension.


In the middle, the green area, are the currently running activities, the so-called projects.


In the yellow area you can find the activities, that you already plan - the tangible ideas, feasible concepts and concrete projects.


The outer area is the pool of opportunities that is not yet planned, but which provide imaginable and feasible solutions that are already available or will be available in the future.